Emergency Communications
Whether EmComm is your passion, or you just want to touch base with other hams when storms hit, there are a couple ways to stay involved in our emergency communications!
Use 146.595 FM Simplex
As fellow hams, we are always here for each other on our NEMARC e-mail group (until we lose Internet) and 146.595 FM simplex (as long as we have emergency backup power). Whether just providing moral support, sharing the event, letting each other know our local conditions or physically assisting each other if needed, our 2M simplex infrastructure is set up with exactly that in mind. Even if we lose Internet, we can keep in touch, share info, provide support and share the event on 146.595 FM simplex.
We encourage all hams in Harford, Baltimore and Cecil counties to set up a viable 2M simplex station at your home (HTs aren't going to cut it). 2M simplex requires no other infrastructure whatsoever to stay in constant communication.
50 watt 2M rigs are cheap these days. For an antenna, even if it is just putting a small 2M antenna like this in your attic (higher outside is better), you'll likely do very well. This antenna, only 5.5 feet high, will likely allow you to cover a significant portion of the county indoors from your attic: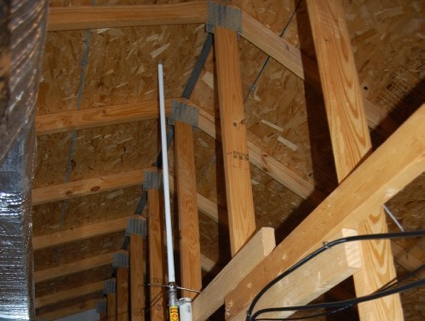 Dean, KA3YJM covers much of Harford County very well, using this small, Diamond X30a antenna in the attic of his town home!
http://www.diamondantenna.net/x50a.html
Or this one, which is even a foot smaller (but sacrifices some gain):
http://www.diamondantenna.net/x30a.html
Harford County ARES / RACES
If you want to get into public service communications, Ted, W3YR and Jeff, KB3LFG would love to have your help! You can learn all about that here:
We are looking forward to hearing you on 146.595!
---