NEMARCS Medalists!
One more Q!
One more Q, the official motto of the Northeast Maryland Amateur Radio Contest Society, is what we are all about. Sometimes it's personal goals that drive us, sometimes the thrill of competition, or just giving two antennas a comparison test, but in the joyful grind of a weekend contest, sometimes we need to latch on to whatever we can to keep us in the chair.
The purpose of this page is to provide one more incentive to keep making Qs, and even more importantly, to recognize the accomplishments of the great contesters in our group.
Origins of One More Q!
Just so the origins of NEMARCS "One More Q" motto and the spirit behind it is documented for all, especially those who follow in the decades to come, I have this short story to share....
Dave, N3HCN is a tremendous CW OP and very competitive, always striving to do a little better than he did last time. Before Dave had a home where he could build antennas, he used to come over and operate CW contests here at my place. Since Dave could operate CW in circles around me, I was happy to let Dave take the driver's seat.
Dave would be rolling, running a frequency until the wee hours, when his head would start to bob as the automated CQs went out. I would say Dave, you better get a few hours shut eye, to which he would repeatedly reply, "just one more Q"!
THAT is the NEMARCS spirit!!!!
Medalist Award Qualifications
To qualify for new medal award recognition, you must exceed a threshold listed below in a single ARRL or CQ HF contest lasting 48 hours or less, as a Single Op, while being a member of NEMARCS. When you do, please let N3FJP know, so that this page can be updated. Additionally, Tom, KE3GK will e-mail you an attractive certificate for your accomplishment, suitable for framing!
Endorsements for your highest QSO level for contest specific modes are listed as follows: C = CW, P = Phone, D = Digital, M = Multimode contests. Only endorsements at your highest level are shown. Once you obtain a new level, endorsements at the previous level are cleared.
Without further ado, here are our NEMARCS medalists!
Diamond => 2,000 QSOs
The 2,000 Diamond medalist line has yet to be crossed! Will you be the first to reach our highest honor!?
Platinum => 1,500 QSOs
N3FJP M
W3JX P
Gold => 1,000 QSOs
K2PLF C
KE3GK DM
N3EEN D
W3YR C
WC3N D
Silver => 750 QSOs
NT3U D
N3HCN MC
Bronze => 500 QSOs
AK3B MC
K2EJ C
K3TEF D
N3FM CPM
N3OZT P
WA1HEW C
W7IGC P
WT8WV P
Copper => 300 QSOs
AG4Q D
KA2BKG PD
KA3YJM P
KC3ODW D
K4JDF P
N3BD D
W3WC CP
Iron => 100 QSOs
KC3MRT P
KC3QVQ P
KC3RGK P
KC3RPO D
K3IB CPD
K3NO PM
K3RLW PDM
N3UR CPM
W2QFV P
W6YTG CPDM


Padawan 0 - 99 QSOs
Excellent, we are glad you are here, learning and we are very happy to help. Once you make at least 100 QSOs in one contest weekend, you will earn the right to be recognized here. Meanwhile, check our contest tips page and keep asking us questions!
Many thanks to Tom, KE3GK for designing certificates for the various medalists levels! Your certificate will look like this (for your level):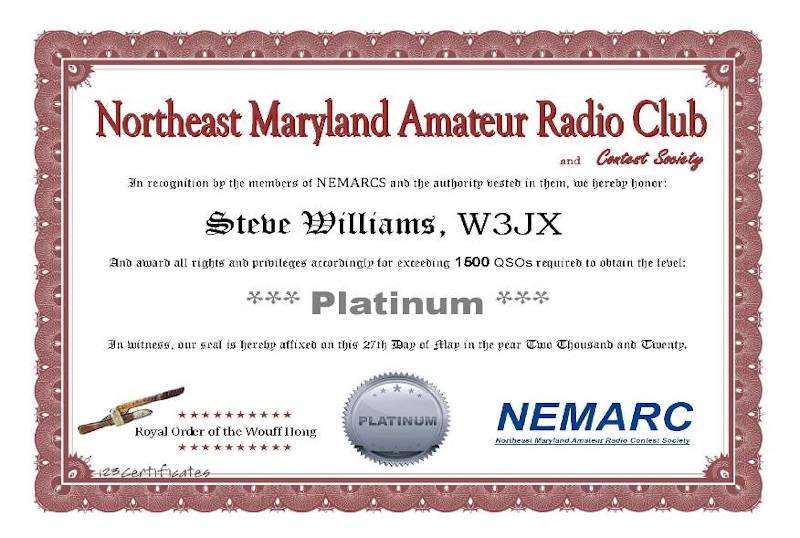 ---