2 Meter Simplex Net & Home Frequency!
Random Simplex is Quite Active on 146.595
Several of us work from home or are otherwise engaged in home activities nearly full time, so we monitor the 2 meter frequency, 146.595 FM simplex often throughout the day. Please be sure to put out your call anytime! 146.595 has become our daily Harford County intercom frequency!
Organized 2M Simplex Net
In addition to our random and robust simplex activity, we are currently looking for a volunteer to coordinate a regularly scheduled NEMARC 2 meter FM simplex net. We previously met every Saturday morning (when there wasn't a contest) on 146.595 at 8:30 AM local time in an informal "round table" format. Everyone is welcome, invited and encouraged to check in!
The net can last anywhere from 15 minutes to more than an hour depending on the number of check ins and flow of conversation. Even if you can't stay, please stop in and say "hi".
The net format is general ragchew. We recognize that there are many hobbies within Amateur Radio, and we value hearing about each person's particular interests. General discussion can include any and all Amateur Radio and related topics from astronomy to weather and everything in between!
Simplex is Awesome!
Repeaters are great tools for working larger geographic areas, but for us, Simplex is awesome! In addition to the joy of connecting and sharing our hobby, operating simplex also provides a great opportunity to evaluate and enhance our stations.
Experimenting with antennas and receiving signal reports from other hams in the area is interesting and fun for everyone. It gives us all a chance to learn about VHF propagation, local topography, antenna radiation characteristics, the importance of antenna height and good coax! Should an emergency arise, we are also prepared to communicate with each other without the need for a repeater or any other infrastructure whatsoever!
Setting up a 2 Meter station to communicate with other area NEMARC folks on simplex is a really fun challenge that is achievable for most everyone! Here is a map showing many of our members.
If you don't have an outside 2M antenna (or one mounted high in your attic), think about putting something up. There are lots of great commercial antennas to choose from. Just make sure you select something that is vertically polarized for 2M simplex.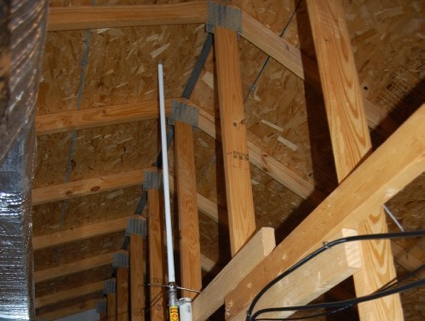 Dean, KA3YJM covers much of Harford County very well, using this small, Diamond X30a antenna in the attic of his town home!
http://www.diamondantenna.net/x50a.html
Or this one, which is even a foot smaller (but sacrifices some gain):
http://www.diamondantenna.net/x30a.html
Another option - you can always build a copper J-Pole that you can pull up into a tree with a line over a tree branch or clamp outside to a vent pipe on your roof. In the past, I've drilled a hole in the top of mine, passed a line through it and pulled it up nice and high. These antennas are really neighborhood friendly (difficult to see) and virtually indestructible! Just keep in mind that a J-Pole doesn't typlically have as much gain as the commercial antennas do.
Here is all the information you need to build a J-Pole: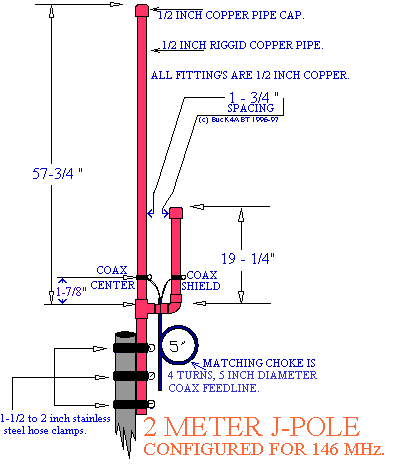 Evaluating Your Topography
Here is a great site for evaluating your local topography for 2 Meters. You can check the topography between your home and any other location you like. It is really a great tool!
http://www.heywhatsthat.com/profiler.html
Here is an example of how to use it...
Most folks on 2 meters that are only a couple miles away, using outdoor antennas, are full scale. I can work mobiles nearly down to the Harbor Tunnel and on the Eastern shore. Gary, WC3N is only 4 miles away, I hear him loud and clear, but his signal strength is roughly S5. I wondered why he wasn't full scale and decided to check the topography.
First I went here and toggled to the satellite view (button at left) http://www.heywhatsthat.com/profiler.html
I entered my address. The site put an X right on my roof, which happens to be right about where my 2M antenna is!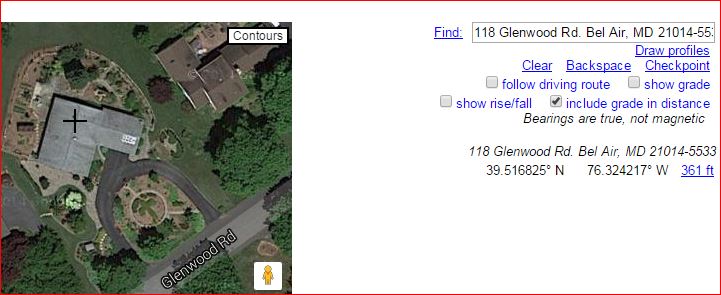 Then I looked up Gary's address on QRZ and entered it. The site put an X slightly above the house (I assume it is Gary's - I've not been to his QTH), but you can drag the X to the exact location you like, so I pulled the X down to his roof.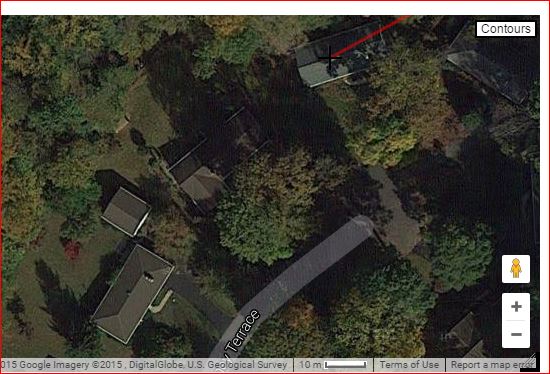 The site then displayed the detailed topography between our two homes, with a red line showing the direct path:

According to the site (I'm on the left at 361 feet and Gary is on the right, just slightly higher), there is a ridge near Gary that is roughly 80 feet higher than our elevations, near Mountain Road, that separates us. If I remember right, Gary's antenna is currently only 20 feet up at most. For a completely unobstructed signal, Gary would have to raise his antenna 80 feet above ground (which is possible with his high trees). Fortunately, while 2 Meters is more line of sight than lower frequencies, it still fills in the valleys enough that we are able to communicate just fine as is.
Don't immediately assume that on 2 meters, because a guy is behind a hill, you can't work him. That's not the case at all. In addition to the above example with Gary, here is the plot from my house to W3JX. Steve is 10 miles away, in Havre De Grace, behind an even higher hill (relative to line of sight) than the one between Gary and me. Steve is full scale here.

.

Several things to keep in mind:
- The plots are at ground level. Raise both ends up 30 feet (assuming both stations have their antennas up 30 feet) and the plot looks a lot better.
- 2 meters is VHF, not UHF. It isn't 100% line of sight as the UHF frequencies tend to be. It still will fill in the valleys somewhat.
- 2 meter signals will reflect and bounce. We are only looking at one slice here. It is very possible that you can work stations behind hills by reflecting from another hill off to the side.
Whether your goal is to work a lot of DX, many stations in HF contests, or work local folks on 2 Meters, if you like challenges, Amateur Radio is super fun! Unless you are really down in a hole, for 2 meters with a good gain antenna at the right height, you should be able to work the majority of Harford county (and likely much farther) easily.
---